FOLLOW THE FIRST STAGES IN ROMAGNA, ON 29 AND 30 JUNE 2024!
Save the date: 29th and 30th June 2024.
This is the first time in history that the Tour de France, the most famous cycling competition in the world, will start from Italy!
Of course, a tribute to Romagna and Cesenatico, the birthplace of the unforgettable Pirate Marco Pantani, to whom some of the most epic stages of the Tour de France are linked, cannot be missed.
Take the opportunity to experience a great cycling holiday at the Lungomare Bike Hotel, following the Tour de France 2024 first hand. You will be able to train on the roads that even Marco Pantani loved to ride and get to know our beautiful territory and our excellent food and wine in the company of our expert guides.
The 2 Romagna stages:
29th June 2024, 1st stage of the Tour de France, with departure from Florence and arrival in Rimini
30th June 2024, 2nd stage of the Tour de France, with departure from our Cesenatico!
It will be a memorable event, for which we will be able to say over the years 'I was there too'!
Let's get ready for the Tour together
Especially for this event, we are reserving for you the package most loved by cyclists!
BIKE PACKAGE
Up to 6 daily tours ( only we have more than 100!) for different training levels, with expert bike guides

Access to the 'Lungogym' gym with panoramic sea views and Technogym equipment
Use of the outdoor swimming pool with hydromassage, salinised and heated from March to November
Bike Room "Marco Pantani" (for over 150 bikes), safe and equipped with washing area, small repairs and compressor. Mechanic always at your disposal
Access to the wellness and beauty area of the Lungomare Hotel "Lungobenessere". We also have the Pressotherapy ideal for combating adiposity, but also relaxing after training
Laundry service for technical sportswear
Cycling jersey Lungomare Bike Hotel branded Alè
Excursions with tasting of typical local food and wine products
Assistance in case of accident or breakdown
Free use of walking bicycles
Programme for children and non-sporting people (shopping tours, visits to museums, typical inland villages in Romagna, etc.)
Hearty breakfast, post-training buffet from 12:00 to 16:30 and dinner with meat, fish, vegan and vegetarian first and second courses with water on tap during meals
Water for the flasks, bananas and mineral salts for the tours
Flask by Hotel Lungomare
Kettle in the room with coffee, tea and herbal tea
Free WiFi
From 27th June to 01st July 2024
4 nights (5 days)
from 536 € per person in double room
From 24th June to 01st July 2024
7 nights (8 days)
from 821 € per person in double room
Trust a real bike hotel!
Our Pasolini family has always been very passionate about cycling and hospitality, two perfect elements for a seaside holiday of sport and relax.
In addition to many cycling enthusiasts, today's champions and great legends of the past also come to visit us from time to time, such as Bernard Hinault (who won 'only' 5 Tour de France, 3 Giro d'Italia and 2 Vuelta a España), who stayed with us in September 2023.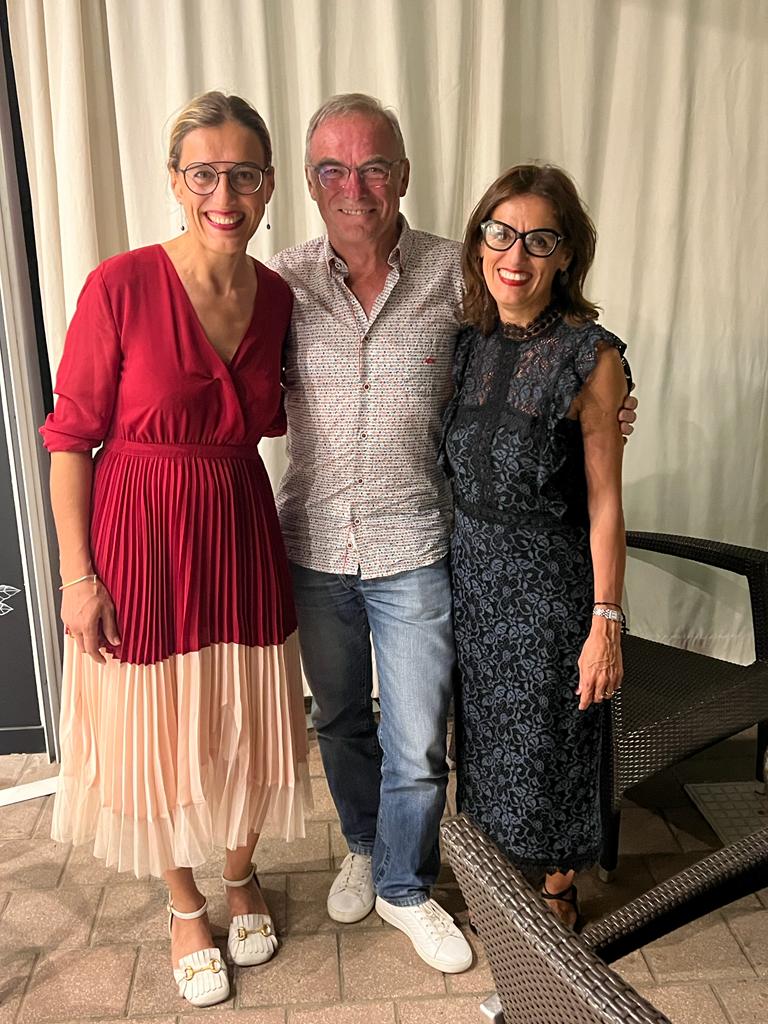 Such is the passion we put into our services for cyclists and such is our enthusiasm that we were even selected to be part of Sky's famous "4 Hotel" programme, hosted by Bruno Barbieri, in the episode dedicated to the best bike hotels in Romagna.
Come and visit us too, for a full immersion of cycling and friendship by the sea!